Four Substitute Educators Honored by Kelly Education to Kick Off Teacher Appreciation in May
05/08/2023
As May rolls around each year, we are reminded to show our appreciation for the educators who have dedicated themselves to shaping our future generations. It's not just the classroom teachers who deserve our gratitude — we should also acknowledge the invaluable contributions of substitute teachers and non-instructional support staff who play a crucial role in student achievement.
Substitute educators aren't just temporary teachers.
Substitute teachers have a unique opportunity to positively impact the lives of children, and their role is essential for students to succeed academically. When a teacher is absent, a substitute teacher helps to maintain the continuity of learning by teaching lesson plans and curriculum established by the classroom teacher. While quickly adapting to new classroom environments and routines, substitute teachers ensure students receive a quality education with minimal disruptions to the learning environment.
Even before the COVID-19 pandemic, substitute educators have been critical in filling the gap of absent full-time educators, and demand has only increased. According to the Bureau of Labor Statistics, nearly 600,000 substitute teachers cover more than 30 million absent teachers in K-12 schools annually. Findings from a recent National Center for Education Statistics report indicate that "as of October 2022, 6 percent of all public school non-teaching staff positions were vacant. The average public school had one vacant non-teaching staff position."
In many ways, substitute educators are the unsung heroes of the educational system in our country.
Celebrating substitute educators
To honor the contribution of substitute teachers and non-instructional substitute educators such as paraprofessionals, nurses and food service workers, Kelly Education, the nation's largest education staffing provider, has had a longstanding tradition of recognizing the achievements of substitute educators with its annual Substitute Educator of the Year Award.
This year, Kelly Education chose four educators for the 2023 Substitute Educator of the Year Award. Criteria included current employment by Kelly Education and a nomination by a school colleague demonstrating how the educator enriched the lives of students and peers in their school community. Each winner receives a $5,000 bonus plus an additional $1,500 to give to the school of their choice.
Check out how the four winners of this year's award are changing students' lives one classroom at a time.
Check out how the four winners of this year's award are changing students' lives one classroom at a time.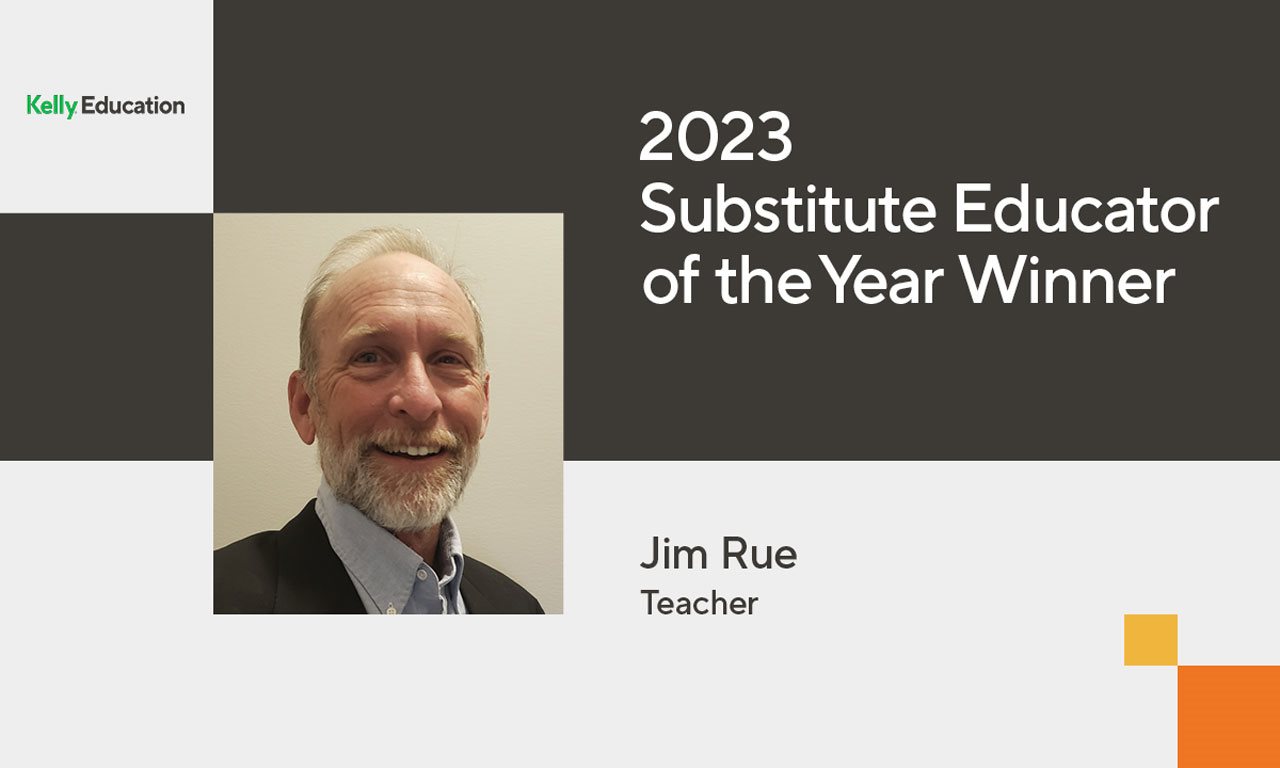 Jim Rue retired from teaching full-time in Saint Paul, MN. However, he continues to serve as a substitute educator at Belwin Outdoor Science, where he previously taught. Working as a substitute teacher allowed him to work with students outdoors while maintaining a flexible schedule and his skills as an educator.
"Never underestimate the positive effect you can have on a young person's life," said Rue. "Substitute teachers should never lose sight of being able to change a student's life. That positive influence may not be seen by them until years down the road or ever, but what you do does have an impact."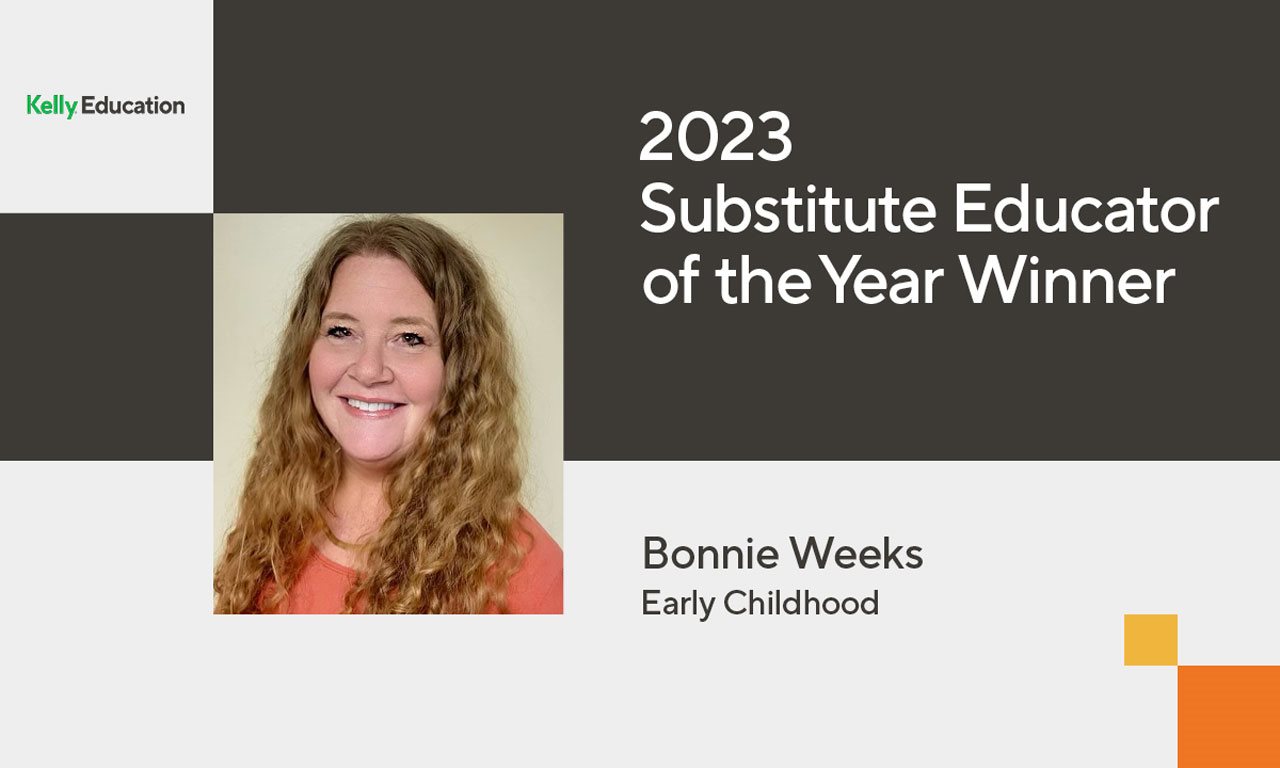 Bonnie Weeks graduated from Brigham Young University and immediately began teaching second grade full-time. After several years as an educator, she chose to stay home to raise her children and later cared for her aging parents. After they passed away, she began working as a substitute teacher.
"Throughout the years, I never lost my passion for teaching," said Weeks. "The best part of each day is positively influencing the students' lives. When I can help a student, particularly one who struggles, learn and understand a concept, it brings me great satisfaction as it helps build their self-esteem."
Charles Sheehan is a veteran who retired from the U.S. Army in 2016 and began working with troubled teens in detention. During the pandemic, his family decided to move back home to Florida, where he chose to work as a substitute educator.
"The greatest benefit of working as a substitute teacher with Kelly Education is providing an exceptional education to students in need and having a flexible schedule," said Sheehan. "Substituting isn't easy, but it is very rewarding. I enjoy working with and getting to know all the third-grade students and teachers at Belmont Elementary."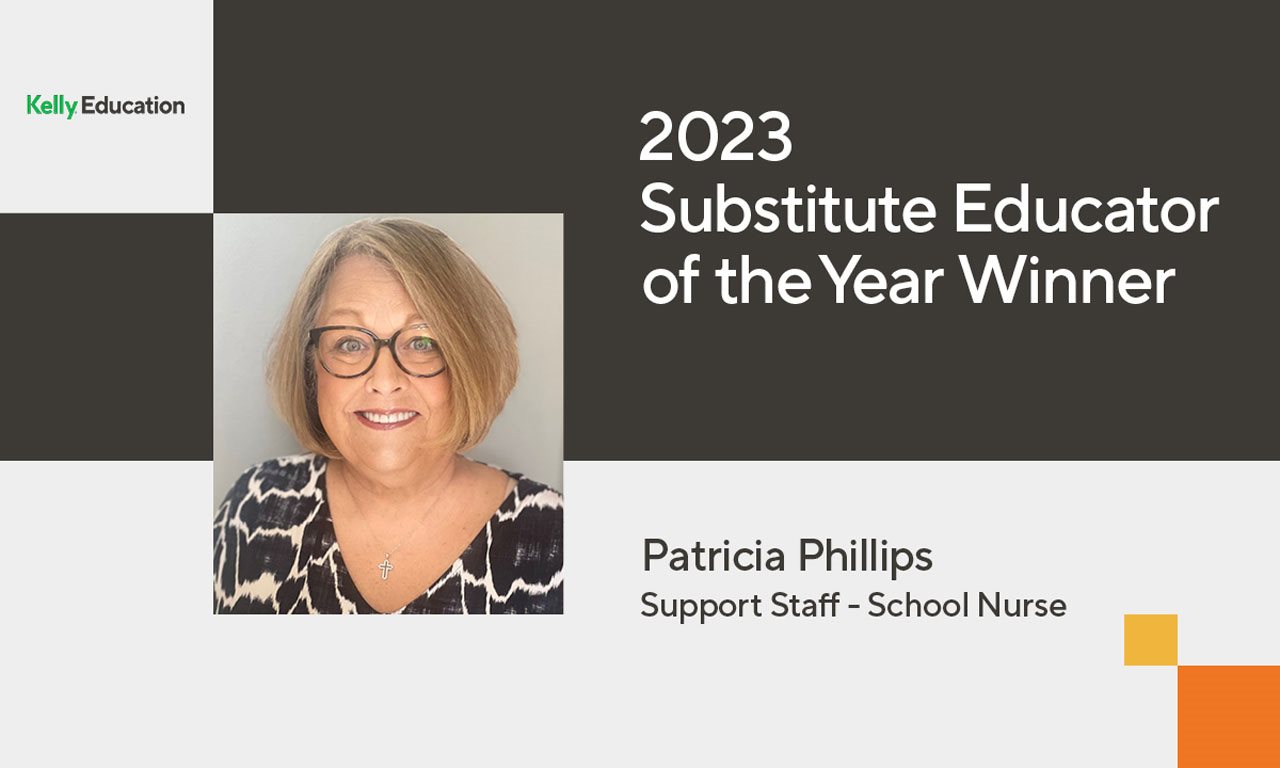 Patricia Phillips is a school nurse in North Kansas City, MO. She retired from hospital care after more than 20 years and went to work in education. She has worked for Kelly Education for 12 years and recently received a certificate from the state of Missouri honoring her 50 years of nursing service.
"Being the nurse, you have the opportunity to help children and teens in all kinds of situations," said Phillips. "It might be chronic health issues, emergency situations or emotional issues. You have to have a lot of confidence in your assessment skills because you are working alone most of the time. But you also need to know when to reach out for help."
Creating a robust academic experience requires the contribution of all school employees, especially substitute teachers. This year, during the month of May, take time to thank the substitute educators in your community.
"One of my greatest joys is celebrating the work of our educators," said Kelly Education President Nicola Soares. "These four educators are extra special because they were all nominated by school colleagues for the positive impact they have on their school community."
You can learn more about this year's winners by reading their full profiles on kellyeducation.com.